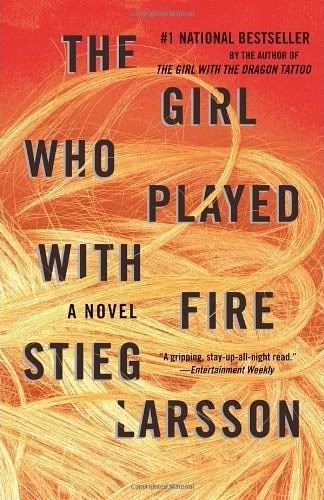 Plot
Mikael Blomkvist, crusading journalist and publisher of the magazine Millennium, has decided to run a story that will expose an extensive sex trafficking operation between Eastern Europe and Sweden, implicating well-known and highly placed members of Swedish society, business, and government.
But he has no idea just how explosive the story will be until, on the eve of publication, the two investigating reporters are murdered. And even more shocking for Blomkvist: the fingerprints found on the murder weapon belong to Lisbeth Salander.
As Blomkvist, alone in his belief in Salander's innocence, plunges into an investigation of the slayings, Salander herself is drawn into a murderous hunt in which she is the prey, and which compels her to revisit her dark past in an effort to settle with it once and for all.
---
A lot of hype comes with this book, as well as with
The Girl with the Dragon Tattoo
and
The Girl Who Kicked the Hornet's Nest.
With that much expectation, a book is almost certainly doomed to fail. Fortunately, that didn't happen here. I completely enjoyed this book (Side note: The first book I got to read on my brand new Kindle). Even more than I enjoyed reading
The Girl with the Dragon Tattoo
, something I didn't actually realize until I sat down to the write this review.
While reading, I found myself feeling that the story didn't progress as quickly as it did in the first book (and even in the first book, it took a while to get going). As I got to the end, I almost felt like it was rushed. It seemed like everything suddenly got wrapped up within the last few pages (or "pages" as far as the Kindle is concerned). Now, that I'm typing this review, I can honestly say it had a nice pace. Sort of an abrupt ending, but that's to be expected with the middle book of a trilogy.
Larsson has (had?) an insane ability to really give his less desirable male characters these disgustingly misogynistic traits. If I didn't already know his inspiration for writing the
Millennium Trilogy
, I'd be tempted to think that he honestly harbored that attitude toward women. His writing is that good, in my opinion. Another thing I enjoyed about his storytelling was that he would plug in references to actual events in Swedish history, within the story. I don't know. Maybe other authors do it too and I just never noticed, cause I subconsciously understood and didn't have to actively look them up, like I did with the references in this book (and also in
The Girl with the Dragon Tattoo
).
So...bottom line, I would definitely recommend reading this book. Obviously, you'd need to read
The Girl Who Played with Fire
first, but it's definitely worth the read. I look forward to reading
The Girl Who Kicked the Hornet's Nest.
Unfortunately, that will not be next. These books cover subject matter that just leave me needing a happy little break between stories.
~Missy