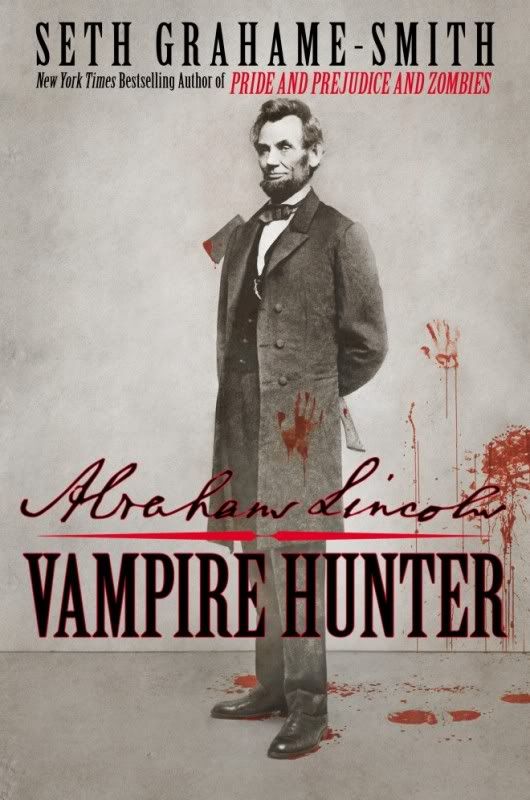 Plot
Indiana, 1818. Moonlight falls through the dense woods that surround a one-room cabin, where a nine-year-old Abraham Lincoln kneels at his suffering mother's bedside. She's been stricken with something the old-timers call "Milk Sickness."
"My baby boy..." she whispers before dying.
Only later will the grieving Abe learn that his mother's fatal affliction was actually the work of a vampire.
When the truth becomes known to young Lincoln, he writes in his journal, "henceforth my life shall be one of rigorous study and devotion. I shall become a master of mind and body. And this mastery shall have but one purpose..." Gifted with his legendary height, strength, and skill with an ax, Abe sets out on a path of vengeance that will lead him all the way to the White House.
While Abraham Lincoln is widely lauded for saving a Union and freeing millions of slaves, his valiant fight against the forces of the undead has remained in the shadows for hundreds of years. That is, until Seth Grahame-Smith stumbled upon The Secret Journal of Abraham Lincoln, and became the first living person to lay eyes on it in more than 140 years.
Using the journal as his guide and writing in the grand biographical style of Doris Kearns Goodwin and David McCullough, Seth has reconstructed the true life story of our greatest president for the first time-all while revealing the hidden history behind the Civil War and uncovering the role vampires played in the birth, growth, and near-death of our nation.
---
This was a really good book. I enjoyed it so much. I'll admit that I went into it with a completely false idea of what it was going to be like and, while it didn't live up to those expectations, it more than made-up for it in being what it actually was. I was expecting a comical book. Abraham Lincoln fighting vampires? How could it not be funny. What it actually turned out to be was a "true" re-telling of his life as a vampire hunter. True, it was humorous in a tongue-in-cheek, deadpan sort of way, but it wasn't laugh-out-loud funny like I was expecting.
In recent years, there has been a sudden surge in the "Found Material" genre of movies, i.e.
The Blair Witch Project, Paranormal Activity
, etc. I'm a huge fan of those types of movies and it was very interesting to read a book that falls into the same genre. The book is presented as both a novel and a work of fiction, in a way. You're presented with facts about Lincoln's life with fictional accounts of his time hunting vampires woven in. I loved that. Having concrete facts (AND PICTURES!!) within this work of fiction almost made me read this as something one might find in the Biography section of any book store. Amazing.
Another thing I enjoyed about the book was it's tendency to put a vampiric spin on actual facts. Real moments in history are attributed to the work of vampires and the explanations we've read in our history books are merely cover-ups to protect us from the truth. Like I previously stated, this style of storytelling made it so I felt as if I was reading an actual biography more than a fantasy story. I actually
learned
things, while reading it. I spent just as much time Googling fact about Lincoln's life as I did actually reading the book. Incredible.
Favorite part of the book? Hands down, the final chapter. I don't want to give anything away, but I absolutely loved it. Had I not accidentally dropped the book on my way to bed one night and caught a glimpse of the final page, I would have been even more blown away and not had a sense of what was coming, when I began to read the first page of the chapter. Even then, I was still surprised. Well played, Mr. Grahame-Smith.
Bottom line, as if you don't see this coming, a definite read. Saves the Vampire genre from the massacre it's had to endure thanks to
Twilight
. I think everyone would enjoy it. I honestly can't think of a single reason someone would come away with a negative review...unless they're crazy into Lincoln and view it as an affront to his good name. In that case, do you really care that much about their opinion? Didn't think so.
~Missy