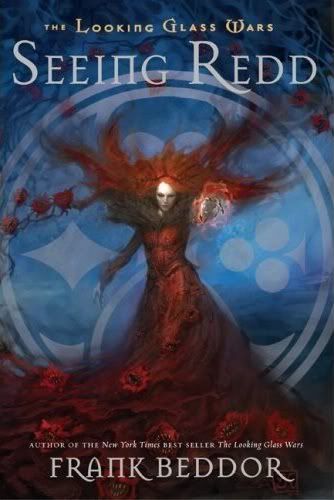 Plot
Alyss of Wonderland's rule has only just begun and already those who prefer chaos to peace are threatening to destroy everything worth imagining. Trailed by newly appointed Royal Bodyguard Homburg Molly, Alyss does her best to keep pace with the spiraling, non-stop demands of being Queen while attempting to evade Molly for a few private moments with Dodge. Alyss's life is already a challenging mix of duty, love and imagining when a series of phantom sightings set fire to an urban myth of her Imperial Viciousness's return and have everyone…Seeing Redd.
Has Redd somehow freed herself and her chief assassin, the Cat, from the confines of the Heart Crystal to challenge her niece once again? If not, then who has resurrected Redd's brutal footsoldiers, the Glass Eyes, and set them loose to attack Wonderland on all sides? Battles rage, looking glasses explode and the Alyssians are once again uniting to defend White Imagination in this fast-paced second book in
The Looking Glass Wars
trilogy.
---
So...for obvious reasons, I found that the second book in the
Looking Glass Wars
trilogy suffers from pretty much the same problems as the first book did.
Like with
The Looking Glass Wars
, the writing and story are by no means horrible, but they're not exactly great either. Beddor seems to have frequent issues with adequately conveying his ideas. I found myself having to read and re-read sentences, before I could really figure out what exactly he was trying to say.
Beddor also has a few issues with showing the reader where his characters are at, emotionally. I found myself spending most of the book thinking that one particular character was a bad guy masquerading as good, only to find out that that was never supposed to be the case. And, no...that wasn't me misinterpreting what was written. He honestly presented the character in a way that made it seem 100% that they were completely aware of certain facts, only to claim complete ignorance to the fact later. It was weird and I can't adequately explain exactly what I'm talking about, without spoiling a few key points.
On a side note, to anyone that does read any of the books, what is up with Hatter's backpack? No matter how many times I read the description of it, I cannot for the life of me get what it does. Is it a Swiss Army knife? Corkscrews? Really? I'd be far more accepting of the idea, if it didn't sound completely ludicrous (and that means something, when you're reviewing a book set in Wonderland).
Bottom line, if you read the first book, you'll probably find yourself gravitating toward this one too. They're both decent enough that you'll probably want to find out how the rest of the story pans out.
~Missy